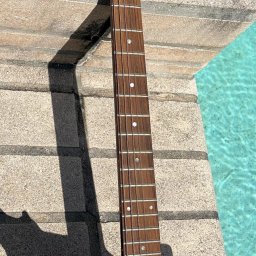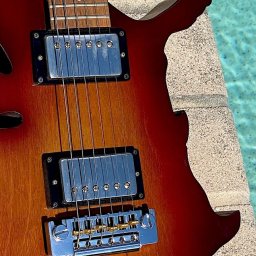 | | |
| --- | --- |
| Year | 1982 |
| Make | Epiphone |
| Model | Map "Burst" Guitar |
| Condition | Mint |
Every once in a while you find something that attracts your attention that is far from the norm. Gibson made some "Map" shaped guitars back in the early 80's. Most had a Gibson logo…some were made in the USA w/the Epiphone moniker. Gibson used the original Map guitar on many of their hang tags & brochures during the early 80's to show how they are proud to be a USA made guitar manufacturer. Most of this run were made from all mahogany with a natural satin finish. Some had maple necks. The word was they were originally made for dealer promotion & not for resale, but that changed when they up'd the production run & were offered for public consumption. Believed that only 12 of these USA made Map guitars were made with the "Epiphone" logo to give that Epi name some USA made credibility. This example is the  only one we have ever seen made in a factory Cherry Sunburst finished top w/a cherry stained back & sides like a Les Paul Std. Reissue. It also sports an ultra flamey maple neck that shows its figured wood right thru its finish. Most likely made for someone special, it is the only one like it & is in DEAD MINT unplayed condition also having its original hard case. $Not For Sale.