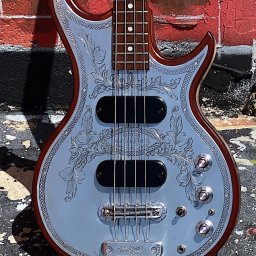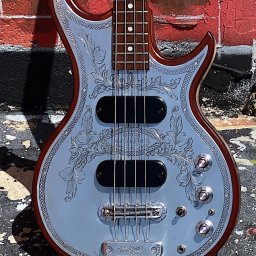 1991 A.C. Zemaitis Custom Metal Top Bass
| | |
| --- | --- |
| Year | 1991 |
| Make | A.C. Zemaitis |
| Model | Metal Top 4-String Bass |
| Color | Metal & Cherry Red finish |
| Condition | Near Mint |
This is a very rare & extremely desirable Zemaitis Metal Top Bass made by Tony Zemaitis in 1991 in the UK. It's 1 of just a handful made by Tony w/its famous "Engraved" Metal Top by Danny O'Brian & each one was very special ordered. This has Danny's Signature Floral design all over its face w/a wreath in the center w/Tony's name, dated w/a checkerboard pattern surrounding its complete border. Its 1 piece neck & double cutaway body are both made from some choice Mahogany for its lightness & tone qualities. Its unbound rosewood fingerboard feels delightful. It has 2 powerful pickups w/a wide variety selection of tones. Its lead pickup is being rewound as we speak. Gotoh tuners keep her in tune. It has its last caretakers name "Johnny Z" on its engraved truss rod cover above Tony's "Z" name plate. It also sports an ornate adjustable bridge & engraved stop bar. Just 9 lbs. 13 oz; She's truly near mint & comes in its original Black Gator hard case.
Born Antanus Casimere Zemaitis, of Lithuanian descent, Tony Zemaitis (as he is known to his friends), began a five-year apprenticeship as a cabinetmaker in 1951. He repaired his first guitar in 1952 and built his first instrument –a classical nylon-string guitar in 1955. Zemaitis started to build guitars for his friends, selling them the instruments at lower prices. After doing the military service, Zemaitis improved his methods to manufacture guitars. His instruments became popular in blues and folk music musicians of London, gaining good reputation among them. During the 1960s, Zemaitis made 12-string guitars for notable musicians including Ralph McTell, Spencer Davis, Eric Clapton and Jimi Hendrix.
After starting to build acoustic guitars, Zemaitis began to manufacture electric models, with some prototypes used by George Harrison. Other musicians that asked Zemaitis for guitars were Mark Bolan, Ron Wood and Ronnie Lane.
Zemaitis' characteristic metal front guitar was designed to reduce the
humming
of the electric guitars. His first metal-front was made for
Tony McPhee
, of
The Groundhogs
in the late 1960s. Inspiration for metal-fronts came for his observation of Fender guitars, upon which he considered they have design faults relating the position of the pickups in relationship to the strings. Zemaitis took the model from a radio magazine, where he noted that every unit had a metal chassis with the components mounted on it. Applying that principle to his guitar, he produced the first metal-front guitar.
Metal front guitars also included an engraved designs made by his friend and customer Danny O'Brien, who had started engraving plates for guitars headstock until Zemaitis himself suggested O'Brian to engrave the fronts, as well. Zemaitis' guitars became popular among rock artist and consolidated as a landmark of Zemaitis guitars. In the mid-1970s, Zemaitis made his first "mother of pearl" fronts for Ronnie Wood and James Honeyman-Scott.
Although Tony Zemaitis died in 2002, the demand for his guitars continued increasing, as well as their prices.