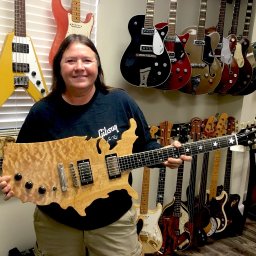 2003 Gibson Map Quilt Guitar
| | |
| --- | --- |
| Year | 2003 |
| Make | Gibson |
| Make | Gibson |
| Model | Map "Quilt" Guitar |
| Condition | Mint |
This is a very special 1-of-a-kind made by Gibson's Jim Hutchins prior to his retirement for Robert & Sara Klingler from the Rockford Carving Company from Marine City, Michigan. Their firm makes over 4000 different parts for 23 Guitar manufactures including Gibson, Fender, Ovation, Heritage, Martin & Peavey. They have a fabulous relationship with Gibson & were able to acquire quite a # of very rare mostly 1-off guitars over the years for their private collection. This is one of the hippest guitars that Sara personally ordered for herself from their close friend, James Hutchins, Master Luthier for Gibson's Custom Shop. In Sara's own words, this is the story of this cool Map Guitar:
"In 2003 I asked my long time friend, Master Luthier and 45 year veteran of Gibson Guitar, James W Hutchins to build me a map guitar before he retired. Hutch was the guy that cut-out all the map bodies in the Kalamazoo plant in 1982 when Gibson made the map guitars for Epiphone. This is what we came up with. Quilt maple top in a clear natural finish. Spruce back and mahogany neck. The fingerboard is ebony with Mother of Pearl stars. The head veneer has a Mother of Pearl logo, I dot and star. Hutch made me an extra back plate which he signed. This guitar has never been played. It is truly a ONE OF A KIND guitar built by the Gibson Custom Shop."
We collect cool 1-of-a kind Gibson & Epiphone Map Guitars & this will be a welcome addition to them. Enjoy. $Not For Sale.