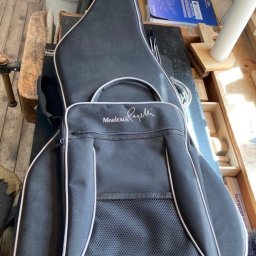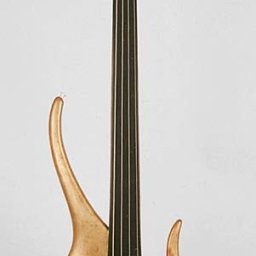 2005 Marleaux "Pagelli" Prototype 5-String Fretless Bass
| | |
| --- | --- |
| Year | 2005 |
| Make | Marleaux |
| Model | Pagelli 5-String "Prototype" Fretless Bass |
| Condition | As New |
This is a Bass that I have followed since its inception back in the late 90's. Swiss born Claudio Pagelli started his 1st shop in 1979 repairing & making acoustics & electrics for the locals. In 1997 he had this wild idea for his take on the perfect acoustic sounding electric bass & I fell in luv. Only 2 of these were ever made…one 4-string in this famous Gold Leaf finish & one 5-string in a pretty figured wood finish but Claudio couldn't get its pickup system to make his dream more of a reality. Its actually a piece of Art Work & I wanted one bad ! I met Claudio at the Newport Guitar Festival in Miami Beach back in 2009 & we spoke of this Fretless wonder but it was just out of reach @ a firm $15,000.
Now let's forward to 2005 & Swiss born Claudio Pagelli meets German born Master Craftsman Gerald Marleaux whom started his Boutique Bass Building Business in 1990. Gerald after 20 years in making spectacular inventive basses for so many European players, met w/Claudio & decided to make a Limited Run collaboration of the Pagelli Designed Fretless Bass in a 4, 5 & 6-string version. Its was an exact copy of the 1st Pagelli's w/far improved pickup system & playability. After a total of only 5 Basses that called it quits as its production cost was just to much.
I recently was in search of one of these Pagelli Designed Marleaux produced basses & reached out to Gerald in Germany. He stated he no longer made them but could offer me a new & improved version of this Pagelli called a "Diva". In fact that Diva is spectacular in all respects but I asked would he make another & he responded "I think I have one at home that just needed assembly if I was interested". He stated it was the lone "Gold Leaf" 5-string of a total of only 5 made in all forms, 1 of only 3 sporting 5-strings produced. We made a deal & he sent it off to me. I can't wait to play that bad boy !!
$Not For Sale.